Date: Oct 8, 2011
First of all, Happy Birthday Jay Jay! Jay Jay is 5 Years old today!
We promised him weeks ago to take him For a ride in the newly open Circle Line West Line.
There I am with my new Angry Bird Tee!
The Mickey Mouse #2 is ready too. Look at the big smile on his face. Did you greet your koko Happy Birthday?
Birthday boy seems to begging mommy for something. At age 5, he has trained to be a good bargainer.
There we are in the Harbour Front MRT. Waiting for the Circle Line MRT.
Ok. It's an underground MRT. So, the journey is pretty boring! Hahaha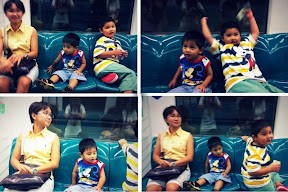 Kay Kay is well behaving on the train until he gets very bored.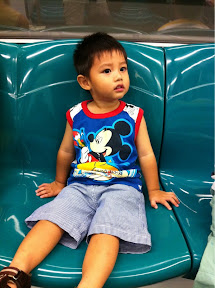 So he begun to look at the left side...
Look at the right side, and still disappointed by nothing much to see... Haha
Finally we are here. At the Botanical Garden. It's nice here. Get to Jacobs Ballas is much faster from here.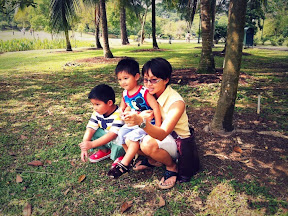 The scene is beautiful! Look at this mirror pond... Very beautiful...
Kay Kay spotted flowers on the ground...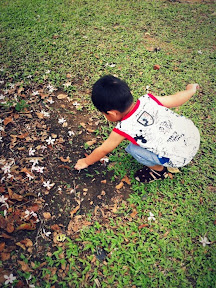 See Papa. What is this?
It's flowers...
I can play helicopter with these flowers...
Jay Jay is a bird watcher. He is observing the black swan.
Very nice mirror reflections and the black swan combination is just great!
Kay Kay also join in the fun!
Nice!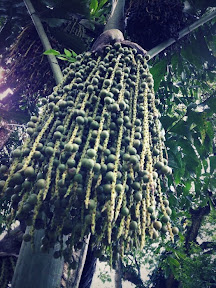 Look at that far far yellow green patch of old tree in the centre.
After 30min walk... I think... We finally reached the Botanical Garden Entrance. Wow... That is far from the Circle Line train station...
Oh... The flower man is filming for the Orchid Garden video or movie clips.
Later, we took a taxi back to Vivocity where we park our car. And I jump right into a long queue to sign up for the New Paper Big Walk in the Resort World Singapore.
Already 45min and I am still half way... Lots of people
Only 18,000 people can walk. So lots of people come and register. Free walk in the universal studio wor... Hahaha
- Posted using BlogPress from my iPhone4
Location:HarbourFront Ave,,Singapore