Date: Oct 14, 2011
At Paragon, I bought this new toy Jay Jay. Its called Ed Creator - Gear set, which is mad from Korea. It is very nice quality pieces, for you to build whatever thing you can think of.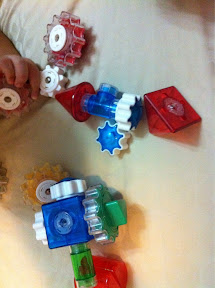 The circle on the blocks contain a rotatable magnet. What exactly is a rotational magnet? It means that there is a magnet in there, and the holding of the magnet is rotatable. So, when you stick (by magnet) 2 pieces together, both pieces are rotatable. It depends on what kind of pieces and blocks you stick together, it makes different sound.
Jay and Kay love to play with it.
With those few pieces, you are able to build a car. And you can pull or push the car on your bed, it moves just like a Mars Rover.
And when you move, some parts moved too because of the gear connected to the wheels.it is amazing, and me, Jay and Kay love it so much.
Kay Kay spend some good quality time playing with it too. Turn every parts he can turn. Move the car... Etc.
Since we love it so much, I went to Vivocity - Growing Fun, and buy the Automobile Playset.
As well as the Aircraft Playset too. Now, me, Jay Jay and Kay Kay each have a set, and it should last us playing for a long time.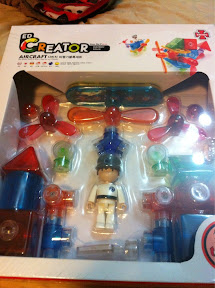 - Posted using BlogPress from my iPad