Date: Dec 8, 2011
I flew in to KL today.
Don't say I "Sua-Gu" but this will be my first ever Musical Concert that I have ever been to. Surprise! I like to listen to songs but all the while I am not so crazy about concerts. Always give me a bad impression of being hot, noisy, singer did not sing well, and so on. Most importantly expensive ticket.
But thanks to a close friend, I get to see my first concert in my life as he gave me a free ticket.
The weather is just nice in KL.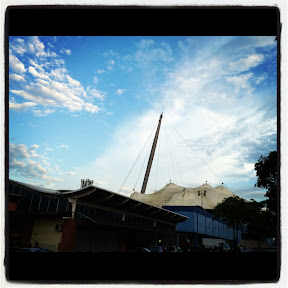 How many time you can see nice and clear blue sky? At Bukit Jalil indoor stadium the weather is just nice. Nevertheless I asked my friends driver to send us here much earlier.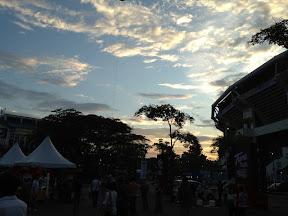 Wow. It is amazing. I don't recall I hear people saying that a concert is so happening.
There are hawker stalls every where selling the sim cards, lok-lok, drinks, Ramli burger, small snacks, CDs, neon lights, lots of stuff.
Ok. Here at the entrance. But look carefully, once inside you can go anywhere. So why do they make people line up and queue at the VIP lane but Royal lane remains very short queue. So we sneaked in by the Royal queue lane which is 10 times shorter.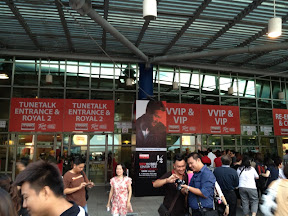 Ugh?! What? VIP gets to seat on gray PlASTIC chair? What is this?
A closer look at our chair. But later in the middle of the concert you will find it useful when your butt start swinging with the songs. 摇啊摇.
And the VVIP gets to sit the Red Plastic chair. Hahaha So our seat is roughly 14th row from the stage. Later you will start to appreciate sitting so near to the stage and being in the center.
Wow, kasihan those people sit at the back. Although they got cushion seat, but very far.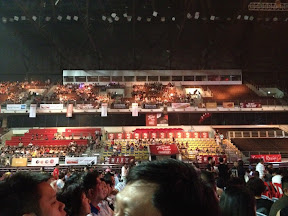 This will be Jacky's no. 101 concert this year. Wow! And he is 50 years old.
Haha lights off, the concert start around 8:20pm..
Here come Jacky with his tap dancing move followed by the musical piece.
The whole feeling is very grand.
Wow. He even brought along his orchestra too...
So all the songs piece together with his movie with 舒淇. Nice. Of course she did not come to the concert.
I like it!
The 肥姐 song.
After rock, here comes the private corner. Not many people likes it, he admits it so he changed a bit of the tune and some nice old song become lively with the Jazz tune...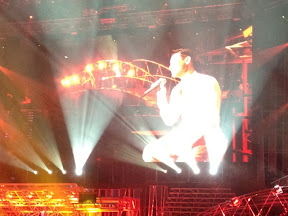 Then, he danced a few songs. And then come to the part where every one just simply love it! Its all the old songs.. My KH Low simply just shouted "Jacky I love you" not less than dozen times...
I love 遥远的他.
Okay. I must admit when you are in a rock concert, the feeling is very nice if you know the song. But don't worry there are a lot of lyrics on the screen for you to sing along. So I guess next time I will or may bring my wife along. Haha
But I think see the concert in oversea may be fun too!
At the end our stomach is so hungry. Time for lok lok.
Surprisingly lok lok is very good.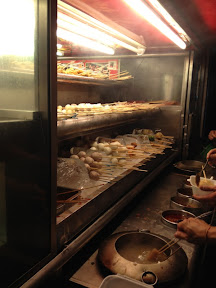 Lots of unhealthy stuffs. Aiya, who cares... Haha
KH keep on eating... Boy we sure have our fun today...
- Posted using BlogPress from my iPhone