Date: Aug 25, 2011
Today I am going to introduce your kid a new App they will love. It's suitable for K1 and K2. It's called Word Wizard.
What does it do? It actually let your kid fill in the words and the app will read out the word he typed.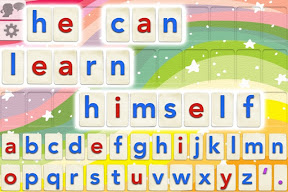 We bought some books for Jay Jay to learn how to read.
And we let him use this App as a learning tool.
And he loves it. This is how he use it...
So this is how my boy learned how to read. By himself.
Time has changed. And iPad or iPhone or equivalent will soon be a very important Tool for kids to learn and study.
Embracing the technology now!
- Posted using BlogPress from my iPhone4
Location:Jalan Lempeng,Singapore,Singapore